Personnel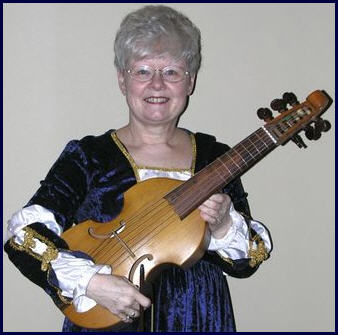 Dr. Alice Neff Peterson
Alto, Coordinator, baroque violin, vielle, viols, recorders, shawm and krummhorn
Alice is a Toledo native who was taught by area violin teachers Mrs. Betty Foster and Dr. Paul Makara. She received BS in Ed, Master of Music, and Doctor of Arts degrees from Ball State University, studying with Otto Feld and Robert Slaughter. Interim studies included summers at Brevard Music Center, Rocky Ridge Music Center, Taos School of Chamber Music, University of Oregon, and numerous workshops including the New York Pro Musica and the Early Music Ensemble.
She spent a year of study and travel with the German Music Center program of the U. of Oregon, which included working with conductor Helmut Rilling, and violin study with recording artist Suzanne Lautenbacher. Since her return to Toledo in 1978 she has been a violinist in the Toledo Symphony, and since 1980 with the Toledo Opera.
Beside the violin, her other area of musical interest is in early music, the subject on which she wrote her dissertation. Since 1980 she has also been a part-time UT faculty member as director of the early music ensemble, Collegium Musicum. In 1979 she initiated the community ensemble Musica Antigua de Toledo, in which she sings and plays several historical instruments. The group has its own series concerts, and also performs in the schools as part of the Arts Education Project of the Toledo Public Schools.
She also plays viola and is the violist in the Scandia String Quartet as well as Strings of Choice performing ensembles. She is a member of Sigma Alpha Iota Music Fraternity, Euterpean Music Club, American Recorder Society, Early Music America and American Musicological Society. Outside of music activities, she loves travel and spending time at home with her several cats.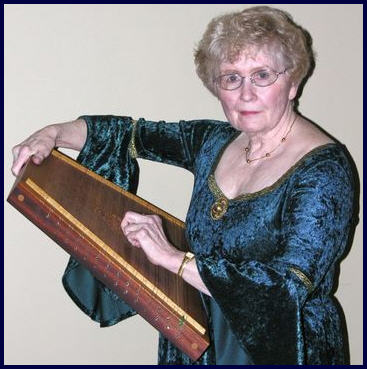 Barbara Neff Craig
Mezzo-soprano, harpsichord, organ, vielle, psaltery, percussion.

Barbara Neff Craig is one of the original members of Musica Antigua, along with her sister, Alice Petersen, founder of the group. Barbara is an organist, and has served as organist and children's choir director in various area churches for many years. With Musica Antigua she sings alto, plays the organ and harpsichord, the psaltery, harp, vielle, and percussion.
Barbara is a graduate of Bowling Green State University with a BS in Ed (Music) degree, and has done considerable research on colonial American music, a special interest. She is an active member of the American Guild of Organists, Sigma Alpha Iota (SAI) - women's music fraternity, Euterpean music club, and several genealogy societies.
Barbara is a widow, has three grown children and four grand-children. Three cats reside in her home. She enjoys genealogy research, gardening and sewing. Now semi-retired, she does substitute organ work at Toledo churches for services, weddings, and memorials.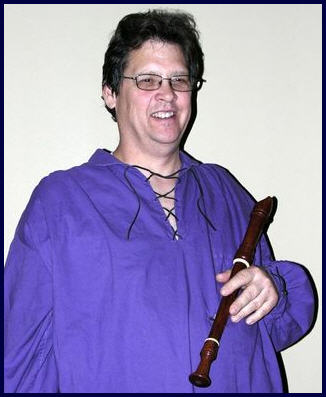 Donald H. Jackson
Baritone, recorders, sackbut, krummhorns, viol.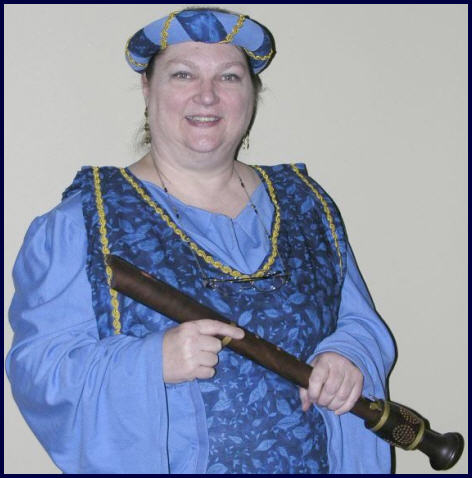 Sandra Kellogg
Mezzo-soprano, recorders, keyboards, harp, viol.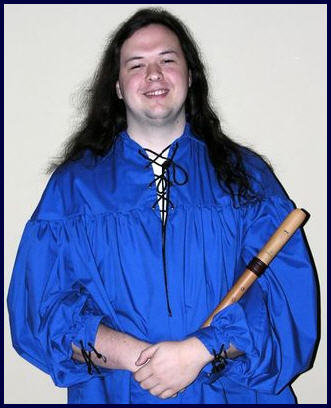 Andrew Phillips
Recorders, reeds.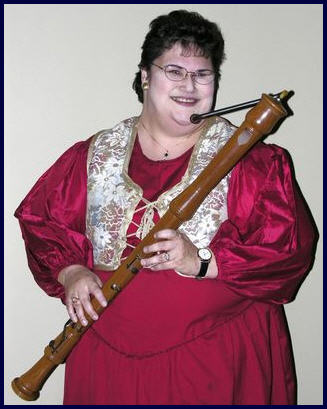 Andrea Kissell
Contralto, recorders, shawm, krummhorns, sordune.

Andrea is a native of Toledo and graduated from the University of Toledo with a degree in Communication. She originally trained as a clarinetist but joined Dr. Petersen's Collegium Musicum while a student at UT. There, she began her study of the recorder, and she has taken part in workshops conducted by Shelley Gruskin, Ken Wollitz, and Martha Bixler. In her spare time, she enjoys reading and needlework. She currently lives in Toledo and works as a travel agent.